Quality Ironmongery Fittings for Buildings of Distinction
BUTT HINGES FOR FULL HEIGHT DOORS
TECHNICAL SPECIFICATION GUIDE
Butt hinges are available in many different types and sizes and care should be taken to ensure that the correct grade of hinge is selected with regard to door size, door weight and frequency of use. Fitting incorrect hinges may impede operation of the door, cause damage to the door and frame and, worst still, may result in injury to persons using the door. Correctly specified hinges will enhance door operation and, if fitted and maintained correctly, will provide many years of consistent trouble free service.
To specify the correct hinges there are a number of factors that need to be taken into consideration. Whilst the majority of situations are straightforward and present few problems, it is important to recognise where special care is required to ensure long and trouble free operation. We have produced this guide to explain some of the principles involved and to highlight potential problem areas.
---
FACTORS TO CONSIDER:
How heavy is the door and what are the dimensions (height, width and thickness)?

What is the door's construction and are there any unusual features e.g. door has a curved top?
Is the door required to open a full 180°?
Is it a fire, smoke or emergency exit door?
Where is the door situated e.g. internal or external. Is it near the coast or in a swimming pool?
What level of use and abuse will the door be subject to e.g. light residential, office, school or hospital?
Are there any other hardware items being fitted to the door that may affect hinge performance e.g. door closers, door stops?
---
FORCES OPERATING ON A DOOR:
The two main forces that a door has to cope with are the vertical load and the horizontal or lateral load.
The vertical load is a direct result of the door weight.
The lateral load is created by the gross weight, the height to width ratio of the door and the position of the hinges. The wider the door is in relation to it's height, the greater the side load that the hinges and their fixings have to support.
Additional forces are also apparent when door closing/opening devices are fitted.
---
DOOR WEIGHT:
The obvious starting point when selecting hinges is to have an idea of the physical weight of the door excluding any other factors. For new doors this is best achieved by consulting the manufacturer or by physical weighing. Where this is not possible or practical the guide weights shown in the table below can be used to calculate an approximate door weight based on door material, height, width and thickness.
Door Thickness & Construction

Weight Kg
per M²

To calculate your door weight use the formula:
Door Height x Door Width x Weight per M²
35mm to 40mm Moulded Panel Doors

12
35mm to 40mm Softwood Doors

14
44mm Softwood Doors

16
35mm to 40mm Oak/Hardwood Veneered Particle Board

26

44mm Oak/Hardwood Veneered Particle Board

30
35mm to 40mm Solid Oak/Hardwood Doors

30
44mm Solid Oak/Hardwood Doors

33
54mm Solid Oak/Hardwood Doors

43
44mm Solid Core 30 Minute Fire Door

25
54mm Sold Core 60 Minute Fire Door

42
Obviously there are many more door types than those referred to here and it is not possible to list them all.
Once the blank weight of the door has been established it is then possible to calculate an adjusted door weight taking into consideration any or all of the factors detailed below.
---
DOORS OF EXCESS WIDTHS:
The declared weight carrying capacity of most butt hinges is based on a nominal door size of 2000mm High x 1000mm Wide and normally with 3 hinges fitted. Wider doors increase the pressure and bending movement exerted on the hinges and this should be allowed for by a redutcion in the maximum mass of the door leaf supported by each hinge.
The factor (F) by which the door mass has to be adjusted for excessive widths is calculated by dividing the door Height (H) by it's Width (W), so H ÷ W = F.
For a factor of 2 or greater no allowance has to be made. Where the factor is less than 2 the door mass has to be increased by the value needed to bring the factor back to 2 expressed as a percentage.
Typical side load calculations are shown in the table below.
Door Size

Factor
Increase in Mass
of Door Leaf %

Example: A 2000mm High x 1200mm Wide door with a blank weight of 40kg has an increased mass of 13kg giving an adjusted door weight of 53kg.
40 + (40 x 33%) = 53

The hinges will therefore nead a load capacity of 53kg minimum.
Door Height mm

Door Width mm

2000
1000
2
0
2000
1050
1.9
10
2000
1100
1.82
18
2000
1150
1.74
26
2000
1200

1.66
33
2000
1250
1.6
40
---
DOOR CLOSING & OPENING DEVICES:
Door closers and automatic door openers create additional force and strain on hinges and this should be allowed for in both the load carrying capacity of the hinges used and on hinge positioning which is referred to further down.
For concealed jamb type door closers (e.g. PERKO) and standard overhead door closers the door weight should be increased by an additional 20%.
Where door closers are stated as having a "backcheck" facility the increase should be 75%. This increase also applies to doors fitted with automatic door openers.
---
FREQUENCY OF USE:
High traffic, heavy duty situations obviously increase wear on the hinges fitted. Where this is the case it is recommended that the door weight is adjusted by an extra 10% to allow for the additional operating cycles that the hinges will be subjected to over their lifespan.
Examples of high frequency doors are shown in the following table:
| | Daily | Annually |
| --- | --- | --- |
| Large department store entrance | 5000 | 1,500,000 |
| Large office building entrance | 4000 | 920,000 |
| Cinema or theatre entrance | 1300 | 455,000 |
| School entrance | 1250 | 225,000 |
| Entrance lobby to school toilets | 1250 | 225,000 |
| City centre shop entrance | 1000 | 300,000 |
| School corridor door | 1000 | 108,000 |
| Large office corridor door | 600 | 125,000 |
| Large office toilet lobby door | 400 | 92,000 |
| Hospital ward door | 350 | 128,000 |
---
ADJUSTED DOOR WEIGHT:
Taking all of the above factors into consideration you can then calculate an adjusted door weight which will allow the correct grade of hinge to be specified in respect of load carrying capacity and duty of use.
Actual
Door
Weight

Doors of Excess Width
Side Loading Calculation

+ %

=
Adjusted
Door
Weight

Example: 2040mm H x 1100mm W school corridor door
weighing 65kg and fitted with a backcheck door closer.
65kg + 15% (excess width) + 75% (door closer) +10% (heavy use)
= 144kg adjusted door weight.

Door Closer (Satndard)

+ 20%

Door Closer (Backcheck)

+ 75%

High Frequency
Heavy Duty Situations

+ 10%

Whilst the above example is extreme it does highlight the need to select hinges capable of carrying the adjusted door weight rather than the blank weight.
Unless stated otherwise, the declared load capacity of all relevant hinges in our range are based on fitting three hinges per door leaf. Where correctly identified hinges would be working at their upper limit we recommend selection of a hinge the next grade up or the addition of a fourth hinge, especially in high use situations.
---
HINGES FOR FIRE DOORS & ESCAPE ROUTE DOORS:
Where hinges are to be fitted to doors that have been designated as fire-resistant and/or smoke control doors and/or emergency escape route doors it is important to select hinges that have been fully tested and approved for use on such to the requirements of BS.EN.1935:2002 and that are appropriately CE marked and certified in accordance with the EC Construction Products Directive (see BS.EN.1935:2002 - A Brief Summary below).
In addition, hinges for use on fire-resisting door sets should normally be fitted complete with intumescent material pads under the hinge leafs on both door and frame to ensure full compliance with the standard. All relevant hinges in our range are available with suitable pads as a standard option or are pre-fitted with them.
BS.EN.1935:2002 - A Brief Summary:
Items performing a role essential to the operation of fire-resisting doors, smoke control doors and escape route doors should be selected for their ability to cope with the type of use that the door will be put. If hinges fail on a fire door for example, this will, of course, defeat the main purpose of the door and the safety of people and property is put at risk.
England, Wales, Scotland and Northern Island all have regulations and associated technical documents that set out the requirements for the design and construction of buildings so as to secure reasonable standards of health and safety for persons in and around the building. These regulations contain the details relating to fire safety, including provisions relating to fire-resisting doors and escape routes.
In addition it is now a criminal offence to supply any construction product that would not enable a properly constructed building in which they were incorporated to satisfy the esential health and safety requirements.
By far the best way to ensure compliance is to select products that are CE marked in accordance with the standard applicable to the product type and that have third party certification for fire door use.
BS.EN.1935:2002 is the current standard for Single Axis Hinges and provides details on classification of use, test cycles, door mass, fire/smoke door suitability, security and corrosion resistance as well as test methods and product marking. Whilst the standard does cover a broad range of single axis hinge types most manufacturers only concern themselves with full testing and CE marking on hinges that meet the requirements for use on relevant door types.
All of the hinges in our range that are compliant with the standard are easily identifiable with the product details clearly showing relevant information.
---
MATERIALS & FINISHES:
Whilst the finish of hinges is normally selected for appearance it is worth spending a few moments to consider other factors that may affect the finish or the component parts of the hinge itself.
Location - internal or external doors and the direction of opening.
Location of the building itself - coastal situations and high humidity can break down some finishes.
Building function - hospitals, for example, can use powerful cleaning agents, or swimming pools which create a very hostile atmosphere.
Door and frame construction - most door and frame timbers are acidic to some degree. Oak, Chestnut and Douglas Fir are the worst due to volatile acetic acid which will attack certain metals and platings in contact with the wood or in certain atmospheres.
The following table can be used as a guide in selecting the most appropriate material and finish for your application:
Steel
Self Colour

Internal applications only. Often used where hinges are to be painted to match the door and frame finish.

Bright Zinc Plated

Whilst providing an acceptable appearance, this finish is primarily a protective finish for steel and
is recommended for internal applications only.

Colour Coated Black

Hard wearing eggshell paint finish for internal use. May be used externally if properly maintained.

Stainless Steel

Grade 304

Satin or Polished finishes suitable for internal applications and general external use in non-harsh environments.

Grade 316

Marine grade material in Satin or Polished finishes suitable for the majority of applications including
coastal areas, swimming pools etc.

Brass PVD

A hard wearing applied brass finish suitable for internal and general external use.

Colour Coated Black

A hard wearing paint finish on Stainless Steel that can be used internally or externally.

Solid Brass

Self Colour

Suitable for internal or external applications. Can be painted or left to age naturally as the brass oxidizes.

Polished Lacquered

Attractive decorative finish for internal use. Note that the lacquer will eventually break down if fitted externally.

Polished Unlacquered

Suitable for internal or external applications. Can be polished regularly or left to age naturally over time.

Applied Metal Finishes
(Chrome, Nickel etc)

Generally hardwearing finishes suitable for internal and normal external use.

Note that this table refers only to the hinge finishes within our range and may not be applicable for hinges from other suppliers. For example, many cheap brass hinges are fitted with steel pins or washers which will very quickly corrode if fitted externally.
---
NUMBER OF HINGES AND HINGE POSITIONING:
Normally, three hinges are fitted to each door leaf in accordance with BS4787 Part 1. For doors exceeding 2100mm in height a fourth hinge should be used.
Hinge positioning is normally determined by the weight of the door and it's resistance to warping or whipping.
Equally spaced hinges will minimise warping which may occur in environments with extreme temperature or humidity.
Unequally spaced hinges improve load bearing and is recommended where hinges are operating near their load bearing maximum or where overhead door closers are in use and/or the door is in a high traffic area.

---
HINGE INSTALLATION:
Hinges should be installed in accordance with the manufacturer's recommendations and instructions. Where no instructions are available, care must be taken to ensure that the hinges are correctly aligned and fixed securely to door and frame. Screw holes should be piloted and screw heads must be flush with the hinge face to ensure that the door closes properly.
when fitting hinges having three or five knuckles, the leaf with the greater number of knuckles should always be fitted to the door frame.
On standard doors, hinges should be rebated so as to leave a minimum of 7mm between the hinge leaf edge and the closing face of the door (this measurement is referred to as the hinge "backset" - see detail below. For fire safety reasons, on fire doors this must be no less than 12mm or 14mm where intumescent pads are used.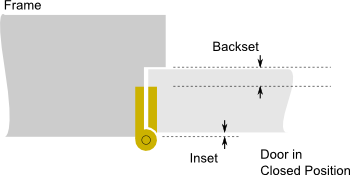 Unless stated otherwise in manufacturer's instructions, the efficient functioning of hinges requires lubrication upon initial installation and. thereafter, at regular 6 monthly intervals or every 25,000 cycles.
---
FURTHER HELP & ADVICE:
Because of the wide variety of circumstances that exist it is impossible to be prescriptive and this guide is for reference only. Should you require any additional information or would like assistance in selecting any of our ironmongery products please do not hesitate to contact us.
Go to our [Hinges] department.