Quality Ironmongery Fittings for Buildings of Distinction
PARLIAMENT HINGES & PROJECTION HINGES
TECHNICAL SPECIFICATION GUIDE
When a door is required to open beyond 90 degrees it obviously needs to be able to clear any obstructions such as architraves or wall reveals etc. Parliament Hinges and Projection Hinges are specifically designed for this purpose with the fixing points drilled toward the edge of a broad leaf allowing the hinge pivot point to be positioned further out from the door edge.
---
IDENTIFYING THE CORRECT HINGE:
Where this function is required it is important to select hinges that will not only provide adequate clearance, but that are suitable for the weight duty, and use of the door. It is important, therefore, to note the load carrying capacity and grade of hinge required prior to making your size selection.
As a general rule, brass Parliament Hinges should only be considered for light to medium weight doors of 20kg - 35kg depending on the model. Projection Hinges offer greater weight carrying capacity while our solid Stainless Steel Parliament Hinges are suitable for doors up to 120kg. - Please refer to our [Hinge Specification Guide] for more detailed advice on this aspect.
Once you have determined the grade of hinge required you can then make your selection based on the minimum projection measurement needed. This can be calculated as follows:
Depth of obstruction (d) + inset (normally 3.2mm) + any additional clearance required.

Once the minimum projection has been determined you can then specify the correct hinge size by referring to the measurements shown on the relevant product pages.
Measurements for Parliament Hinges and Projection Hinges are normally shown in the following way:
Height x Projection x Fully Open Width (the "Projection" measurement is the maximum projection achievable at 180 degrees).
On Parliament Hinges the amount of projection is the distance between the legs and is therefore fixed according to the hinge size.
On Projection Hinges the amount of projection available can be adjusted down from the maximum by decreasing the backset measurement. Note that the backset measurement should not be less than 12mm, or 14mm on fire rated door sets.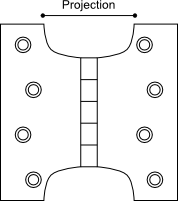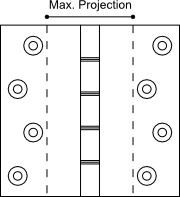 ---
FURTHER HELP & ADVICE:
Because of the wide variety of circumstances that exist it is impossible to be prescriptive and this guide is for reference only. Should you require any additional information or would like assistance in selecting any of our ironmongery products please do not hesitate to contact us.
Go to our [Parliament & Projection Hinges] department.