Quality Ironmongery Fittings for Buildings of Distinction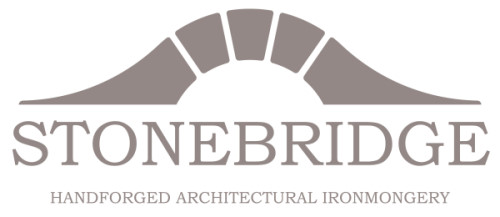 Click the logo to go directly to Stonebridge Collection products
---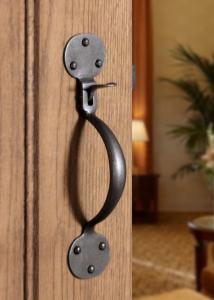 From sword makers to ship builders, North East England has been synonimous with quality steel production for hundreds of years. Situated on the very spot in Consett, Co. Durham, where the old steel works used to stand, the makers of the Stonebridge Collection carry on this tradition and remind us that skilled steel workers are alive and well.
Forged steel has come a long way since the early days and, although the Stonebridge Collection utilises modern design methods and automated machinery, there are stll parts of the process that can only be done by hand to give the truly authentic look and feel that graces the range.
With the introduction of 3D printing, Stonebridge uses the latest prototyping equipment combined with age old methods to create traditional designs with a contemporary twist.
Designs are only as good as the people that manufacture them. Stonebridge work alongside many skilled artisans whose eye for detail is essential in producing fine, handmade door and window hardware fittings that are both beautiful and functional.
Items from the Stonebridge Collection look equally good in both period properties and in more contemporary settings and cover a broad range of ironmongery fittings for residential use. Three lever door handle designs can be suited with matching window stays and fasteners for a uniform look whilst the traditional thumb latches are complimented by matching tee hinges. Additional items such as door bolts, cabinet knobs, pulls and hooks can also be added to extend the look further around the home.
All items are available in patinated Forged Steel with selected items being also available in Natural Black finish.
---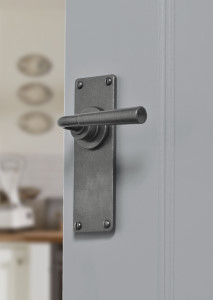 Forged Steel
This popular finish is extremely durable and can be used both internally and externally.
A patina is applied to the steel which is then burnished to reveal subtle highlights of the manufacturing process. Finally, a clear powder coating is applied to give a protective, mid pewter colouring. Stainless steel fixing screws in matching finish add to the durability of the product.
An occasional wipe with a damp cloth is all that is needed to keep this finish in good condition. Metal cleaners or aerosol sprays should not be used.
Note that, due to the steel base material, this finish is not recommended for use in coastal areas or other harsh environments.
---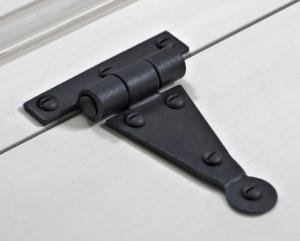 Natural Black
This finish is the most traditional of choices for froged steel. The surface is heated and oxidised to produce the natural black colour then dipped in hot beeswax. As the wax cools it hardens to provide a protective coating.
This is a "living finish" and will age naturally over time. Products should be cleaned regularly with a natural beeswax polish and buffed over with a soft cloth. From time to time you may experience a small degree of surface rust. If this occurs rub the area with a fine wire wool (00 grade) and apply maintenance wax.
This finish is suitable for internal applications only and should not be fitted externally or in areas with a high moisture content. Please make sure your room is completely dry, especially after plastering, before fitting this product.

---